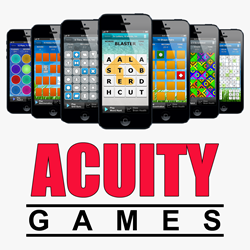 Pompton Plains, NJ (PRWEB) July 16, 2013
Acuity Games is pleased to announce the release of version 7.0 of their brain games for Apples iPad, iPhone and iPod Touch. The Acuity Games line of brain games currently includes:


Concentration: Match sets of hidden letters, numbers or shapes.
Edge Match: Match scrambled square puzzle tiles using colors and patterns.
Flash 2: The classic game of Simon Says using flashes and sounds.
Grid Guru: Tap tiles to repeat increasingly complex patterns.
Matchematics: Match sets of unsolved math expressions.
Sudoku: Match every row, column, and 3×3 sub-grid with the numbers 1 to 9.
Word Hunt: Trace adjacent letters to form words of three letters or more.
To celebrate the release of 7.0, the games will be on sale in Apples App Store for the reduced price of $ 1.99, a discount of 60 percent.
The best value in brain health just got better, said Dan Hansen, founder of Acuity Games. With a newly refined interface, and all new game skins, the games are as beautiful as they are addictively fun to play. And the $ 1.99 sale price puts powerful brain health assessment within reach of any budget.
About Acuity Games
When it comes to brain games, one size does not fit all. Acuity Games brain games adapt to each players individual skills and preferences. Games can be easy or difficult; they can last just seconds, or have no time limit at all. The perfect challenge is just waiting to be played.
About Brain Health Assessment
Acuity Games innovative Brain Health Assessment compares daily, monthly and yearly performance against average performance, making it incredibly easy to see whether brain health is improving or declining. Up to 100 years of daily measurement provides peace of mind that brain health is being maintained.
Learn more at http://acuity-games.com.
Read More