Posts Tagged With 'Best'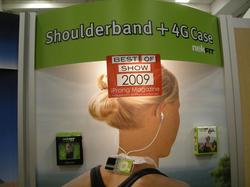 San Fransisco, CA (PRWEB) January 9, 2009
Macworld Conference & Expo 2009. nekFIT, Inc., designers of innovative solutions that expand how and where people listen to music, today received iProng Magazine's Best of Show award for the newly introduced nekFIT Sport + 4G Case. nekFIT Sport combines a light new iPod holder suitable for use with all Apple's iPod nano and Shuffle models with a crystal clear hard case designed for the 4G iPod nano. iProng Magazine, which covers all aspects of the iPod, iTunes, iPhone, based this year's iProng awards on innovation, quality, value, uniqueness, and usefulness to the user base.
"It is rewarding to be acknowledged for nekFIT Sport's innovative ergonomic design that offers maximum freedom of movement to music listeners during their physical activity said nekFIT, Inc. Founder Kurt Eldracher. " nekFIT will continue to design and build innovative mobility solutions that enhance a music listener's experience during all physical activities while delivering high quality with a great value."
The new nekFIT Sport uses a patent pending ergonomic OpenNek design to hold an iPod and store the wires on a person's shoulders, behind the neck. Changing music is easy without looking by simply touching large tactile click-wheel ridges. Adjustable to different neck sizes, nekFIT Sport secures an iPod comfortably during rigorous physical activity.
About nekFIT

nekFIT, Inc. produces innovative iPod sports accessories that provide a more comfortable way to wear an iPod providing maximum freedom of movement during physical activity. Designed by runners and fitness enthusiasts, nekFIT products are used worldwide allowing on-the-go consumers a virtually hands-free and discreet way to combine physical activity with the ability to listen to their favorite music. nekFIT products are designed and manufactured in the USA. For more information on nekFIT, log onto: http://www.nekfit.com.
iProng is a registered trademark of iProng magazine. Shuffle, iPod, iPhone, Apple, iTunes and iPod nano are registered trademarks of Apple, Inc. OpenNek and nekFIT are registered trademarks of nekFIT, Inc.
###
Read More