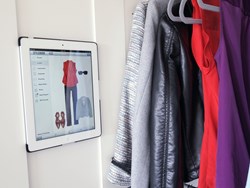 Princeton, NJ (PRWEB) July 23, 2013
Left Brain / Right Brain, LLC announces the release of the iPad edition of Stylebook, their popular closet management app. The fashion-conscious can now move their real-life closet into the 21st century by digitizing it with Stylebook. The app intelligently organizes the information that would otherwise have been recorded in a day planner or on a cork board in the closet – previously the state of the art in closet management- and keeps a searchable inventory of users clothes, outfit ideas, a calendar of what they plan to wear, packing lists for upcoming trips, an inspiration library, and more.
The new iPad edition makes it possible to wall-mount an iPad in a closet, creating a closet management hub where that old cork board used to be. Unlike antiquated tools like paper and thumbtacks, Stylebook has the intelligence to calculate statistics about what you wear and how you wear it – giving you insight into what works for you and what was a good purchase.
Many of our users report that waking up late or hearing about an event at the last minute is no longer a source of sartorial stress for them. They simply open up the app and search for keywords or a specific piece of clothing – from there, they can view outfits that theyve previously recorded, said Jessica Moore, Stylebook co-founder. Having access to outfits they thought of last month, a record of what they wore last week, information about outfits theyve never gotten around to wearing, and a totally searchable database helps them have more good outfit days. So many women are constantly struggling to keep track of their closets. I see it in my day-to-day life and online- binders of outfit polaroids, cork boards with magazine clippings, spreadsheets filled with work outfit ideas, and drawings in day-planners – none of which can be searched or accessed on the go. Imagine having access to that every time you open your closet- that beats a cork board any day.
Device Requirements:

iPhone, iPad or iPod Touch
Stylebook Features:
Add images of your own clothes

Automatic background removal and manual edit for clothing items

Create magazine-style outfit layouts

Layer and resize clothing on a free-form canvas while in the outfit editor

Add unlimited items to your outfits

Calendar

Wardrobe history log

Custom categories for inspiration, clothing and looks

Style inspiration library to save and catalog images

Share with friends via e-mail or Facebook

Wifi Share feature to transfer data between iPhone and iPad

Bulk-email several looks, clothing or inspirations at once

Add notes and tags to any item

Search for items with keywords and tags

Save Stylebook content to your Camera Roll

Style Stats to help you learn more about how you wear your clothes
Pricing and Availability:
Stylebook is $ 3.99 (USD)

Currently available through the iTunes App Store
Stylebook Has Been Featured By:
The New York Times, The Wall Street Journal, The Los Angeles Times, Harper's Bazaar UK, NBC's "The Thread", InStyle, Lucky Magazine, Refinery29, and many more
About Left Brain / Right Brain, LLC:
Left Brain / Right Brain, LLC is a Princeton, NJ-based software company co-founded by programmer Bill Atkins and Jessica Moore, a former fashion publishing assistant with five years of industry experienceincluding three years in the Lucky art department and an internship in the Vogue fashion closet.
Read More